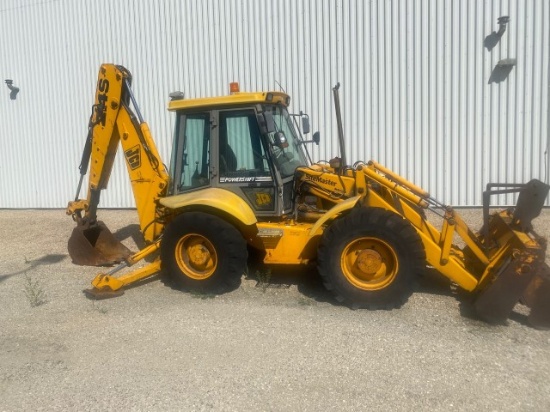 Vistra Online Power Plant Auction
Bidding Begins Wednesday, October 7, 2020 | 10:00 AM Central
Until bidding begins.

Vistra Online Power Plant Auction
Bidding Begins Wednesday, October 7, 2020 | 10:00 AM Central
Description
Featuring Construction Equipment, Trucks, Related Items

***Items located at various locations throughout Illinois. Please see item location in the description on each item.***

Bidding Opens: Wednesday, October 7th @ 10 AM CST

Bidding Begins Closing: Tuesday, October 13th @ 10 AM CST

Buyer's Premium: 10% Buyer's Premium added to the high bid price per item.

Inspection/Preview: By appointment only

Removal: By appointment only. Please schedule an appointment for pick up at least 24 hours in advance. Items not inspected and removed within 5 business days after the auction the buyer is accepting the items as is where is with no option to decline the item based on condition or any other reasons.
CAB, CARRY DECK CRAIN, CAPACITY 12000 LBS, LOW PROFILE FOR GROUND CLEARANCE, HOUR METER READS: 184, ****INOP****, ***NO MOTOR***, ***NO SPECIAL EQUIPMENT ONSITE TO ASSIST WITH LOADING, WILL NEED TO BE PULLED ONTO TRAILER*** ***LOCATION: CANTON, IL***

JEFF MARTIN AUCTIONEERS, INC. DOES NOT OFFER SHIPPING ON THIS LOT. SHIPPING ARRANGEMENTS AND PACKAGING IS BUYER'S RESPONSIBILITY. THANK YOU FOR YOUR BUSINESS
4X4, UTILITY BODY, ODOMETER READS: 225278, ***DRIVER DOOR DOESN'T OPEN FROM INSIDE***, ***NO SPECIAL EQUIPMENT ONSITE TO ASSIST WITH LOADING*** ***LOCATION: CANTON, IL***

JEFF MARTIN AUCTIONEERS, INC. DOES NOT OFFER SHIPPING ON THIS LOT. SHIPPING ARRANGEMENTS AND PACKAGING IS BUYER'S RESPONSIBILITY. THANK YOU FOR YOUR BUSINESS
CREW CAB, ODOMETER READS: 220431, ***INOP***, ***MISSING REAR DUAL WHEELS, MISSING DRIVER DOOR***, ***NO SPECIAL EQUIPMENT ONSITE TO ASSIST WITH LOADING, WILL NEED TO BE PULLED ONTO TRAILER*** ***LOCATION: CANTON, IL***

JEFF MARTIN AUCTIONEERS, INC. DOES NOT OFFER SHIPPING ON THIS LOT. SHIPPING ARRANGEMENTS AND PACKAGING IS BUYER'S RESPONSIBILITY. THANK YOU FOR YOUR BUSINESS
ODOMETER READS: 120412, ****INOP****, ***HOLE IN FLOOR BOARD***, ***NO SPECIAL EQUIPMENT ONSITE, WILL NEED TO BE PULLED ONTO TRAILER*** ***LOCATION: CANTON, IL***

JEFF MARTIN AUCTIONEERS, INC. DOES NOT OFFER SHIPPING ON THIS LOT. SHIPPING ARRANGEMENTS AND PACKAGING IS BUYER'S RESPONSIBILITY. THANK YOU FOR YOUR BUSINESS
CAB, HOUR METER READS: CNV, ***ENGINE RUNS, NO KNOWN ISSUES W/ TRANSMISSION, BATTERY DEAD, UNIT HAS BEEN SITTING, CYLINDERS LEAKING, MAY HAVE BLOW BY ON HYD MANIFOLD, EXHAUST MANIFOLD LEAKING, HOLE IN MUFFLER, REAR BUCKET BLADE & TOOTH BROKEN*** ***LOCATION: MINOOKA, IL***

JEFF MARTIN AUCTIONEERS, INC. DOES NOT OFFER SHIPPING ON THIS LOT. SHIPPING ARRANGEMENTS AND PACKAGING IS BUYER'S RESPONSIBILITY. THANK YOU FOR YOUR BUSINESS
CAPACITY 2500 LBS, CANOPY, SIDE SHIFT, LIFT HEIGHT 187", 3 STAGE MAST, FORKS, HOUR METER READS: 741 ***LOCATON: COFFEEN, IL***

JEFF MARTIN AUCTIONEERS, INC. DOES NOT OFFER SHIPPING ON THIS LOT. SHIPPING ARRANGEMENTS AND PACKAGING IS BUYER'S RESPONSIBILITY. THANK YOU FOR YOUR BUSINESS
CANOPY, CAPACITY 5025 LBS, 3 STAGE MAST, LIFT HEIGHT 187", FORKS ***LOCATON: COFFEEN, IL***

JEFF MARTIN AUCTIONEERS, INC. DOES NOT OFFER SHIPPING ON THIS LOT. SHIPPING ARRANGEMENTS AND PACKAGING IS BUYER'S RESPONSIBILITY. THANK YOU FOR YOUR BUSINESS
Closed Lots